Special Pilgrimage to Lourdes - Nevers & Paris - 07 Day - 2017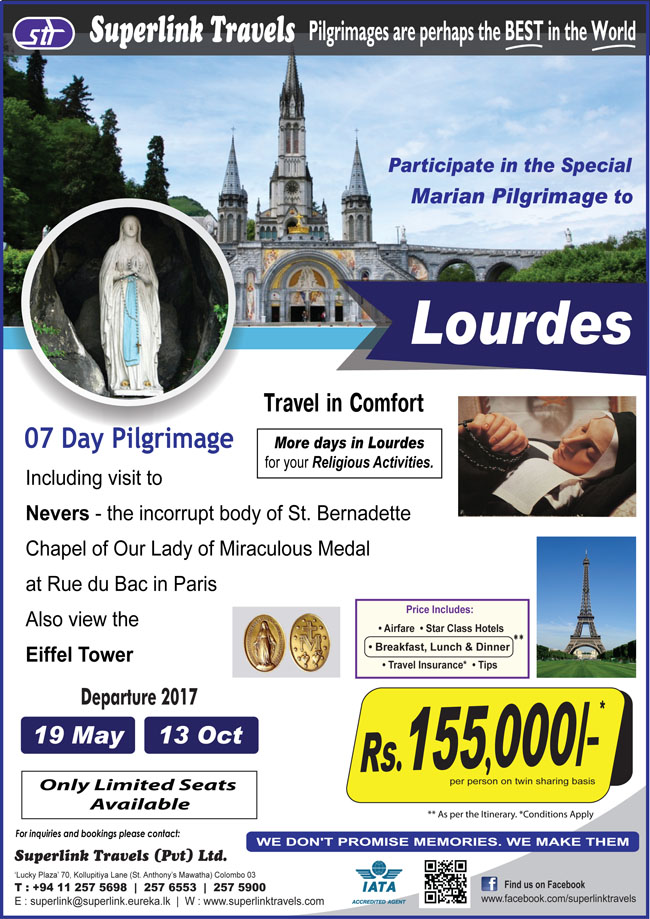 Itinerary

Day 01

Group report at the Bandaranaike International Airport for departure to Lourdes. Group met at the Departure Lounge by a Senior Company Executive.
Day 02
Arrival in Lourdes in the evening
Lourdes is the greatest religious pilgrimage town in Europe. This little market town with a population of 17,000 inhabitants is situated in South-West France (800 km from Paris, 150 km from Biarritz and 45 km from Pau) at the meeting point of mountain and plain. In 1858 a 14 year old girl called Bernadette Soubirous, walking by the rocky banks of the river Gave at Lourdes, experienced the first of a long series of visions of the Virgin Mary. During her lifetime, pilgrims in increasing numbers, having heard of these wonders, journeyed to Lourdes.
Lunch not included

Two splendid basilicas were built beside the original Grotto. In 1858 a third underground basilica was opened (St Pius X Basilica) for more than 25,000 persons at the same time. In the Grotto area you will find: Basilica of the Rosary, Crypt, Upper Basilica St Pius X Underground Basilica, Grotto of the Apparitions, Fountains and Pools.

Transfer to Hotel and evening at leisure for your own religious activities
Dinner and overnight stay in Lourdes.
Day 03
Breakfast at hotel.
Participate in the Holy Mass and walking tour of Lourdes
Lunch included

In the evening participate in a procession for the Blessing of the Sick
After dinner participate in the Torch Light Procession
Overnight stay at hotel.
Day 04
Breakfast and Dinner at hotel.
Lunch included
Entire day at leisure for your own religious activities.
Day 05
Breakfast at hotel.
After breakfast proceed to Nevers.
Lunch not included

This journey takes you through one of the most Picturesque and scenic routes of Europe. Visit St. Gildards Convent to see the incorrupt body of St. Bernadette. (A must for every pilgrim visiting Lourdes)
Dinner and overnight stay at hotel
Day 06
Breakfast at hotel.
After Breakfast depart to Paris. Visit the Miraculous Medal Church (Rue Du Bac Chapel)
Lunch not included

Also a view the Eiffel Tower
Transfer to Airport for the departure flight to Colombo.
Day 07
Arrive in Colombo.
Pilgrimage Ends...
The sequences of visits are subject to change.
---
Price of Pilgrimage



SHARING TWIN


Rs 155,000/-

per person
SINGLE ROOM


Rs 215,000/-

per person
TRIPLE ROOM


Rs 155,000/-

per person
CHILD BETWEEN 2 12 YRS
Rs 155,000/- per child
INFANT (0 2 YEARS)
Rs 60,000/-per infant
---
PILGRIMAGE PRICE INCLUDES
• Hotel Accommodation in Lourdes & Nevers
• Breakfast and Dinner as mentioned in the itinerary
• Lunch - included as per the itinerary
• Tips for the entire pilgrimage (Guides, Drivers, Hotel Staff & Airport Representative)
• Travel Insurance Policy (Coverage: US $ 75,000/ age up to 70 years/ Subject to conditions as per the Insurance Policy/Company& Provided for Sri Lankan Passport Holders Only)
• Arrival/Departure/Transfers by Deluxe A/C Coach in Lourdes & Nevers
• Professionally trained Senior Company Executive will accompany the Group
• Airport taxes in Lourdes & Sri Lanka.
PILGRIMAGE PRICE EXCLUDES
• Transportation to/from Colombo Airport
• Travel Insurance Policy-Additional surcharge of Rs. 8,500 will apply to pilgrims between age 70-85 years
• Lunch - not included as per the itinerary
• Any meals during transit at the Airports
• Excess baggage charges
• Beverages during the meals / Laundry
• Visa Fees
Please note: Superlink will only assist you for your documentation.
• Porte rage in the hotels
• Expenses of a personal nature
Full Payment of Rs. 155,000/- to be Made at the Time of booking
For a Confirm Reservation.*
Group Photos
Pilgrimage to Italy, Lourdes & Fatima
07th April 2016

Pilgrimage to Italy - 02 May 2016

Pilgrimage to Fatima - 19 May 2016

Pilgrimage to Italy Lourdes and Fatima - 08th Aug 2016

Pilgrimage to Lourdes - 16-Jun-2016

Pilgrimage to Lourdes - 17-Jun-2016

Pilgrimage to Italy - 05-Sep-2016