Pilgrimage to

Fatima 06 Day - 2017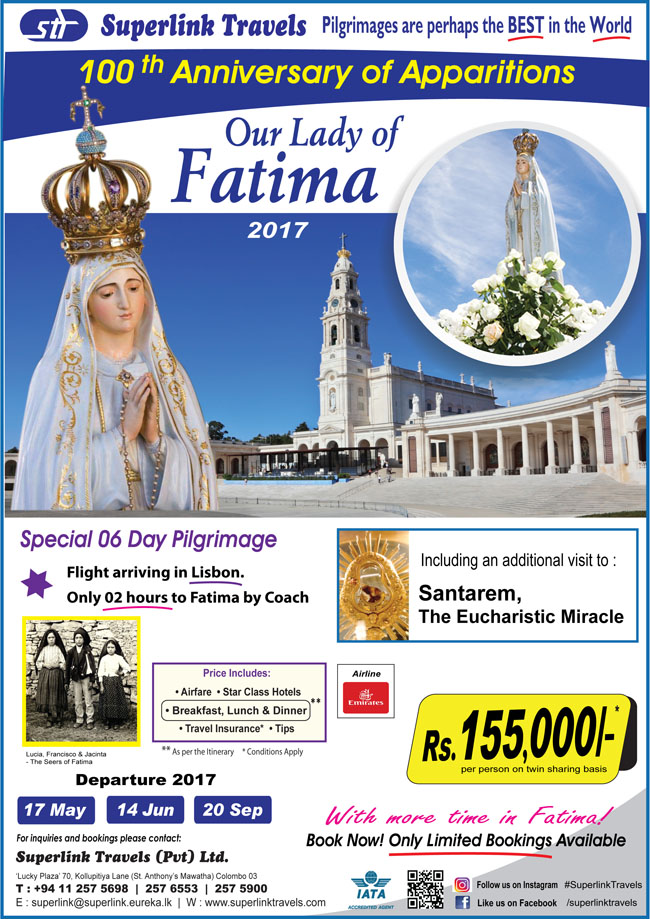 Itinerary

Day 01
Group report at the Bandaranaike International Airport for departure flight to Lisbon.
Group met by the Senior Company Executive at the departure lounge.

Depart to Lisbon.
Day 02
Arrive in Lisbon in the afternoon.

Depart to Fatima.
Visit the Basilica Shrine in Fatima.
At the Cova Da Iria, the small valley where the three visionaries first saw the Blessed Virgin on 13th May, 1917, the people had a simple and modest chapel built, which was later destroyed in a Marxist bomb outrage in 1922. There is now a monumental Basilica in its place, and the tombs containing the bodies of the visionaries Sister Lucia, Blessed Jacinta and Blessed Francisco, are all in two side Chapels of this Basilica. Recently, a huge separate underground Basilica was also built. Visits will be made also to the homes of the three children. Fatima is the site of the famous Miracle of the Sun, (witnessed by over 70,000 people) on 13th October, 1917, at the very last of the six apparitions of the Blessed Virgin Mary, and by which was confirmed the genuineness of the apparitions and the Fatima messages of Our Lady.
Lunch not included

Rest of the day free at leisure for your own religious activities.
After dinner participating in the Rosary and Candlelight Procession
Return to the hotel for overnight stay.
Day 03
Breakfast and Dinner at hotel.
Entire day at leisure for your own religious activities/ shopping
Day 04
Breakfast and Dinner at hotel.
Lunch included
Entire day at leisure for your own religious activities/ shopping
Day 05
Breakfast at hotel
Lunch not included
After Breakfast visit Santarem. In the village of Santarem Portugal, occurred the Church's second most famous Eucharistic Miracle.
Timely transfer to the airport for departure flight to Colombo.

Day 06
Arrive in Colombo.
Pilgrimage Ends.
The sequences of visits are subject to change.

---
Price of Pilgrimage



SHARING TWIN


Rs 155,000/-

per person
SINGLE ROOM


Rs 215,000/-

per person
TRIPLE ROOM


Rs 155,000/-

per person
CHILD BETWEEN 2 12 YRS
Rs 155,000/- per child
INFANT (0 2 YEARS)
Rs 50,000/-per infant
---
PILGRIMAGE PRICE INCLUDES
• Economy Class Return Air Fare
• Hotel Accommodation
• Breakfast and Dinner as mentioned in the itinerary
• Lunch - Included as per the itinerary
• Tips for the entire pilgrimage(Guides, Drivers, Hotel Staff & Airport Representative)
• Travel Insurance Policy (Coverage: US $ 75, 000/ age upto 70 years/ subject to the conditions as per the Insurance Policy/ Company & Provided for Sri Lankan Passport Holders only)
• Arrival/Departure/Transfers and Sight-seeing by Deluxe A/C Coach
• Professionally trained Senior Company Executive will accompany the Group
• Airport taxes in Sri Lanka and Portugal
PILGRIMAGE PRICE EXCLUDES
• Transportation to/from Colombo Airport
• Any meals during transit at the Airports
• Travel Insurance Policy-Additional surcharge of Rs. 8,500 will apply to pilgrims between age 70-85 years
• Lunch - not Included as per the itinerary
• Visa Fee
• Excess baggage charges
• Beverages during the meals
• Laundry
• Porter-rage in the hotels
• Expenses of a personal nature
Full Payment of Rs. 155,000/- to be Made at the Time of booking
For a Confirm Reservation.*
Group Photos
Pilgrimage to Italy, Lourdes & Fatima
07th April 2016

Pilgrimage to Italy - 02 May 2016

Pilgrimage to Fatima - 19 May 2016

Pilgrimage to Italy Lourdes and Fatima - 08th Aug 2016

Pilgrimage to Lourdes - 16-Jun-2016

Pilgrimage to Lourdes - 17-Jun-2016

Pilgrimage to Italy - 05-Sep-2016